8th Grade
8th Grade is the final year of Middle School. At Brillantmont, our programme of studies is designed to meet the needs of international 13-14-year olds and covers a broad range of subjects. Additional English support is available if needed. STEAM courses in Robotics / Coding are an integral part of the 8th Grade curriculum.
9th Grade
9th Grade is the first year of High School and students continue to build on their study skills. The broad, comprehensive curriculum is designed to instil a love of learning. STEAM courses in Robotics / Coding are an integral part of the 9th Grade curriculum.
Our 8th and 9th grade students are entered for the PSAT 8/9 tests which assess their English and Mathematics level and begin to prepare them for external examination situations. All 8th and 9th Graders learn French (except for those in the EAL programme).
After class, 8th and 9th Grade students participate in extra-curricular activities, many of which develop leadership skills.
Read more about the 8th and 9th Grade Programme.

A limited number of scholarships are available for new students wishing to enter the 8th and 9th Grade. Please refer to our fees page for further information.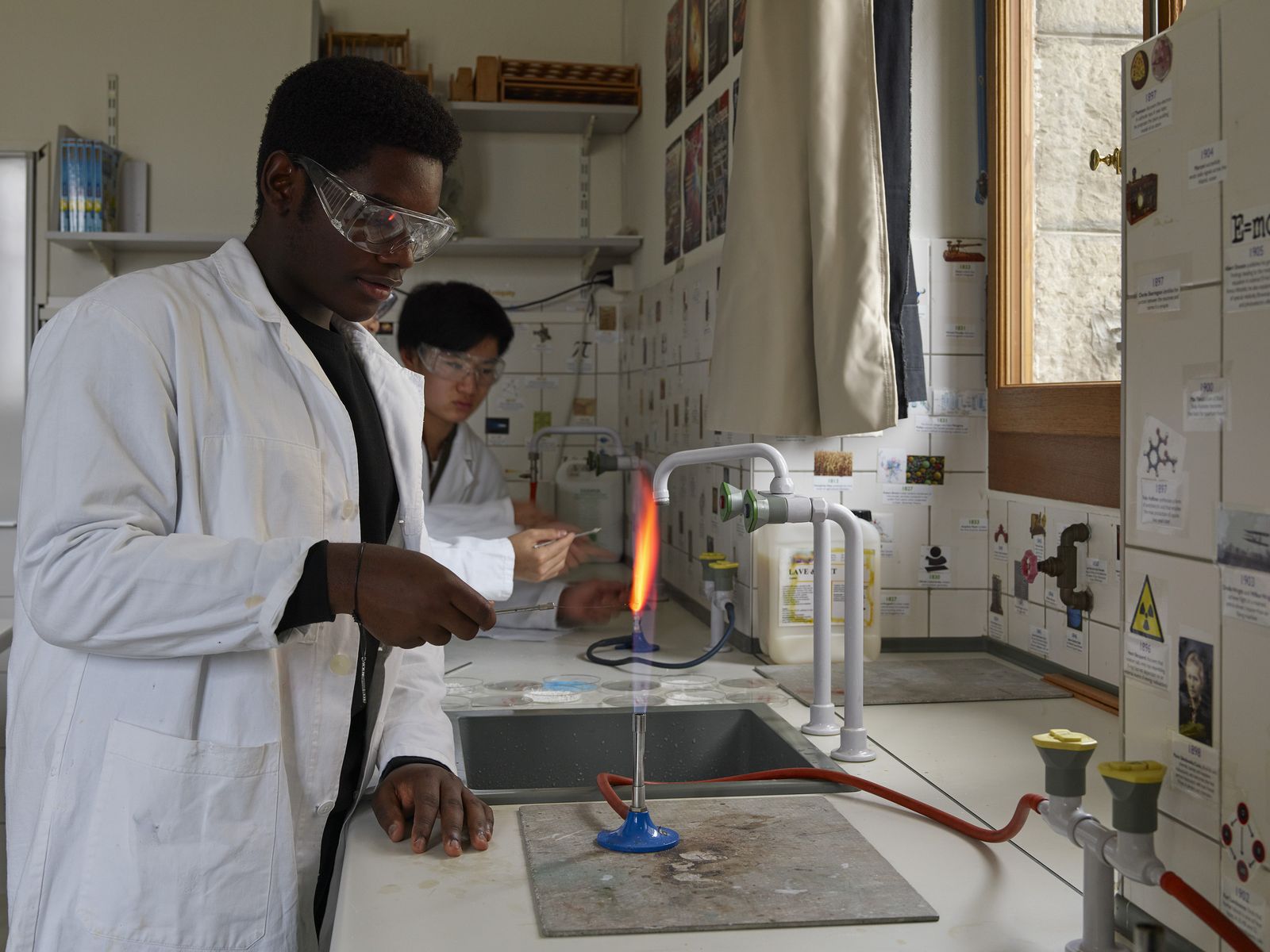 The family feel and supportive, caring environment helps students feel integrated, happy and settled. Their well-being is of great importance and we do all we can to help them flourish and become confident, responsible individuals.
Throughout the High School, students can prepare for external, internationally recognised examinations
10th–12th GRADE
At every grade level, each student has a personalised timetable and follows a selection of courses which cover a broad range of subjects. Sports and PSHE classes are compulsory for
all students and all students learn French (except for those in the EAL programme).
All teaching is in English. In addition to their academic programmes, all students follow extra-curricular activities, many of which develop leadership skills.
Read more about the courses offered in High School Grades 10-12
In language classes, students are prepared for external examinations, on which they can build on return to their home country or in future studies.
European language examinations in different languages such as French, German, Spanish and more. (ALTE)



10th GRADE
At the end of 10th Grade, students have the possibility of taking British examinations called IGCSE. These examinations are prepared in one year, since we often have students who come for just for one year. The decision to take the IGCSE examinations is based on discussions with the student and the Head of Academics.
IGCSE Examinations (Cambridge Assessment International Education)

11th–12th GRADE
In 11th and 12th Grade, students choose the next path.

They may either take a British Programme of Studies or prepare for the High School Diploma.
British Programme
Students take classes leading to British external examinations called A Levels. We follow the curricula of Cambridge Assessment International Education, the leading examination board. In the British programme students usually study three-five subjects in great depth and take external examinations at the end of Grade 11 (AS) and Grade 12 (A2).
We offer A Levels in:
Maths, Chemistry, Physics, Biology, English Language, French, Spanish, German, Geography, History, Economics, Art and Design.


High School Diploma Programme
Students take classes which prepare them for the High School Graduation Diploma
PSAT, SAT test (US College Board).
Some students might wish to take the US examinations Advanced Placement (AP). We do not formally prepare AP however there is some crossover with certain A Level courses, therefore we will assist students wanting to study AP where possible.
Students usuallly study between five and seven subjects and the end of year examinations are internal. They do however take externally assessed SAT examinations and IELTS if their mother tongue is not English.
Should my child follow the British Programme or the High School Diploma Programme?
The choice of programme is discussed either at the Admissions stage or with our Head of Admissions and Head of Academics. Both programmes allow students to focus on subjects in which they are particularly interested and which they may want to pursue at university.
HIGH SCHOOL GRADUATION
At the end of 12th Grade, if they successfully meet the academic requirements, our students graduate with either the High School Graduation Diploma or British A Level examinations.
These programmes enable every single one of our students to continue their studies and enter universities around the world, including in England, Switzerland, Canada and the USA.
Discover into which universities our students were accepted in recent years.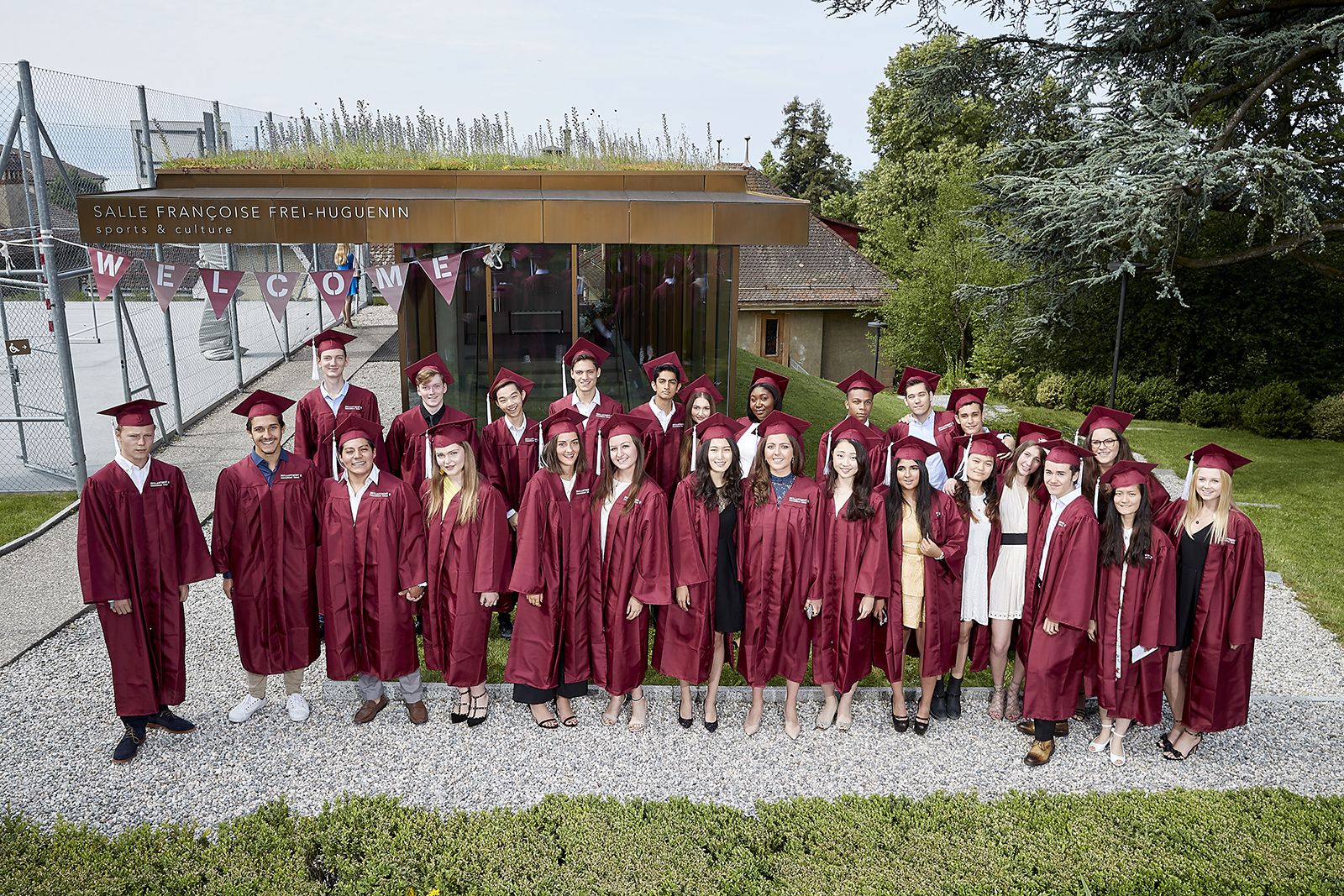 A Levels or IB?
Brillantmont is one of the only schools in the Lake Geneva area which teaches British A Levels. Many schools offer the IB (International Baccalauréat), however, here at Brillantmont, we feel strongly that IB is not the best programme for everyone. We feel that A Levels are a great choice because:
A Levels offer students flexibility and choice.
In the IB, the programme is fixed and students have to study a range of subjects, including those which they may not enjoy. With A Levels, students get to choose three or four subjects, which they can study in depth. They can focus on subjects they like and enjoy and not be pulled down by having to study subjects they don't want to study.
A Levels prepare students for university
A Levels are recognised all over the world. In fact, in the USA, good A Level grades will mean students get credit and can enter the 2nd year of study. The depth of study and the autonomy that students take for their learning, prepare them for university study.
Learn more about A Levels here:
A video explaining the value of A Levels
A video explaining how universities consider Cambridge International A Levels